Profile of Cheryl Anita Lourdes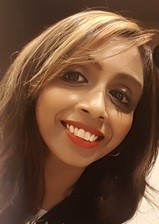 Name: Cheryl Anita Lourdes
Degree: BA (Hons) from University of Northumbria, twinning program via Binary University in Puchong
Book authored:  2 self published books and 1 in writing
Years of working experiences: Cheryl Lourdes has a combination of 18 years sales, marketing and management working experience; she worked in engineering, manufacturing and service industries mainly; Steel, Printing, and Electrical and Electronic industry under main scope fields of marketing, sales, auditing, production, and training.
 Business experiences: Cheryl left employment in year 2010 and started as an entrepreneur.  She founded several business and failed most but retained only one.  She is now the CEO of The Learning Matchmaker Sdn Bhd, a  3 time award award-wining company that offers best advisory learning services to employers.
Passion: Cheryl's passion is focused to engaged customers through her high profiled training program titled, S.I.R – Speak It Rightly.  Her skills is based on her own daily practical approach communicating creatively and confidently with her clients in areas of convincing, influencing and negotiation over the phone and face to face with customers. 
History: Taking position roles from the early days working as a factory worker in Amazon book factory in St Albans, England so that she can pay her bills right to an executive.  She earned her way back to Malaysia with a Degree in her hand, she started from the humble beginnings as an executive working 6 months as a junior executive in probation at a printing factory.  She earned her promotion and became a sales executive achieving top lead sales within 1 year in the organisation. 
Her career moves was into many fields as she was uncertain on her skills at a young age.  From working as a secretary to moving on to a role as an ISO management representative and eventually a chief internal auditor, doing part time work as a unit trust CIMB agent, a USANA sales agent and later when back into the arena of Sales & Marketing and became a Senior Sales & Marketing manager of a conference organiser where she led and coached 25 sales and marketing employees. Her primary role was to convince and influence customers to purchase via phone and further 'warm' the relationship through face to face to close the sales.
Her final career move was leaving employment and started her entrepreneurship journey with a successful company in year 2010 where she is now the CEO of The Learning Matchmaker Sdn Bhd. Until today, Cheryl trains employees and businesses in the areas of her signature program.
Future: Today, apart from her duties as a CEO, Cheryl Lourdes drives her energy into her passion of successfully helping sales and marketing personnels along with business personnels to review, design and realign their marketing brand and cold calling strategies. She expanded her role as a 'Creative Marketing Specialist' which is an important value for a company, because she will encourage a balanced engagement between creative sales innovation, marketing, auditing and ongoing management leadership. Cheryl is on ideal mission to help employees to find them their best credible and renowned trainers and coaches at affordable prices.
Cheryl Lourdes is a 2 times self published book author and in the midst of completing her 3rd book titled The Creative Marketer.  She leaves this 2 quotes with you:
——Always Be Like a Marketer (understand the Lifecycle of your messages to your customers), Test, Test and Test!
——Create, Think, Convince and Win your Conversations through detailed techniques and research