Training Industry Research
Dear HR, Training and Learning and Development (L&D) Teams,
Read our white papers, articles and e-books to empower your knowledge in the industry of learning. TLMM is here to offer you best practices, insights to research within Malaysian HR and Training departments along with focused solutions on 'How to Do it Better' for our employees to upgrade their skills and improve productivity and profitability in the organization. 
Screening Tips To Hire Best Trainers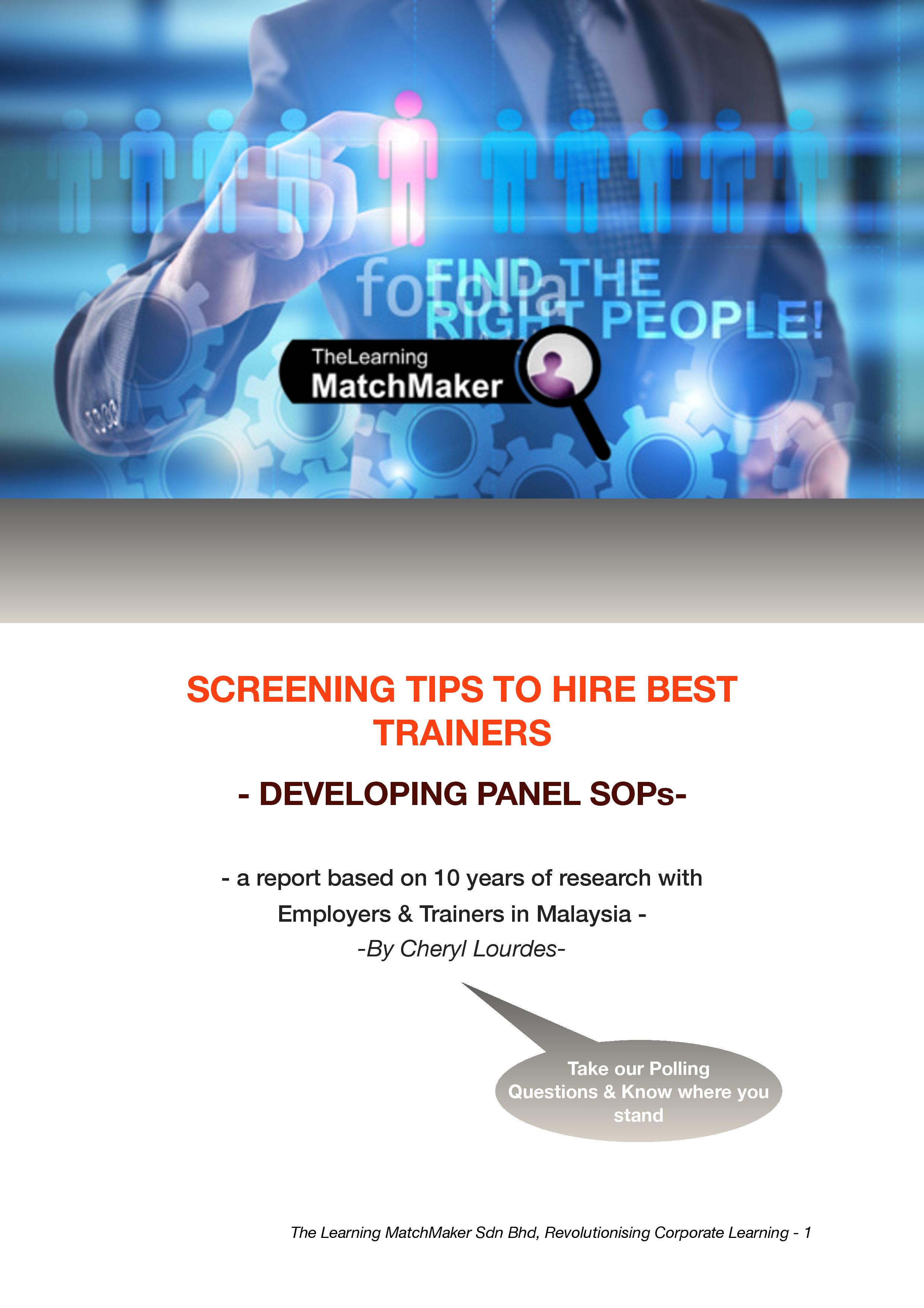 Reflect and think about your skills and your employee response towards learning program that you have planned for all through these years?
Is your panels the right people to THINK & MAKE good hiring decisions?
Apart from being the 'Subject Matter Expert', are they brushed up on different types of learning methods in classroom to anticipate high engagement?
People are divided to Analytical THINKERS & Creative THINKERS. Hence if you invited Analytical panel members who needs to evaluate a people's skill program, they may have 100% doubtfulness for seeing if its workable.
Guiding Training Department in Malaysia to Think - Making Thinking Matter to HR, Training and L&D Teams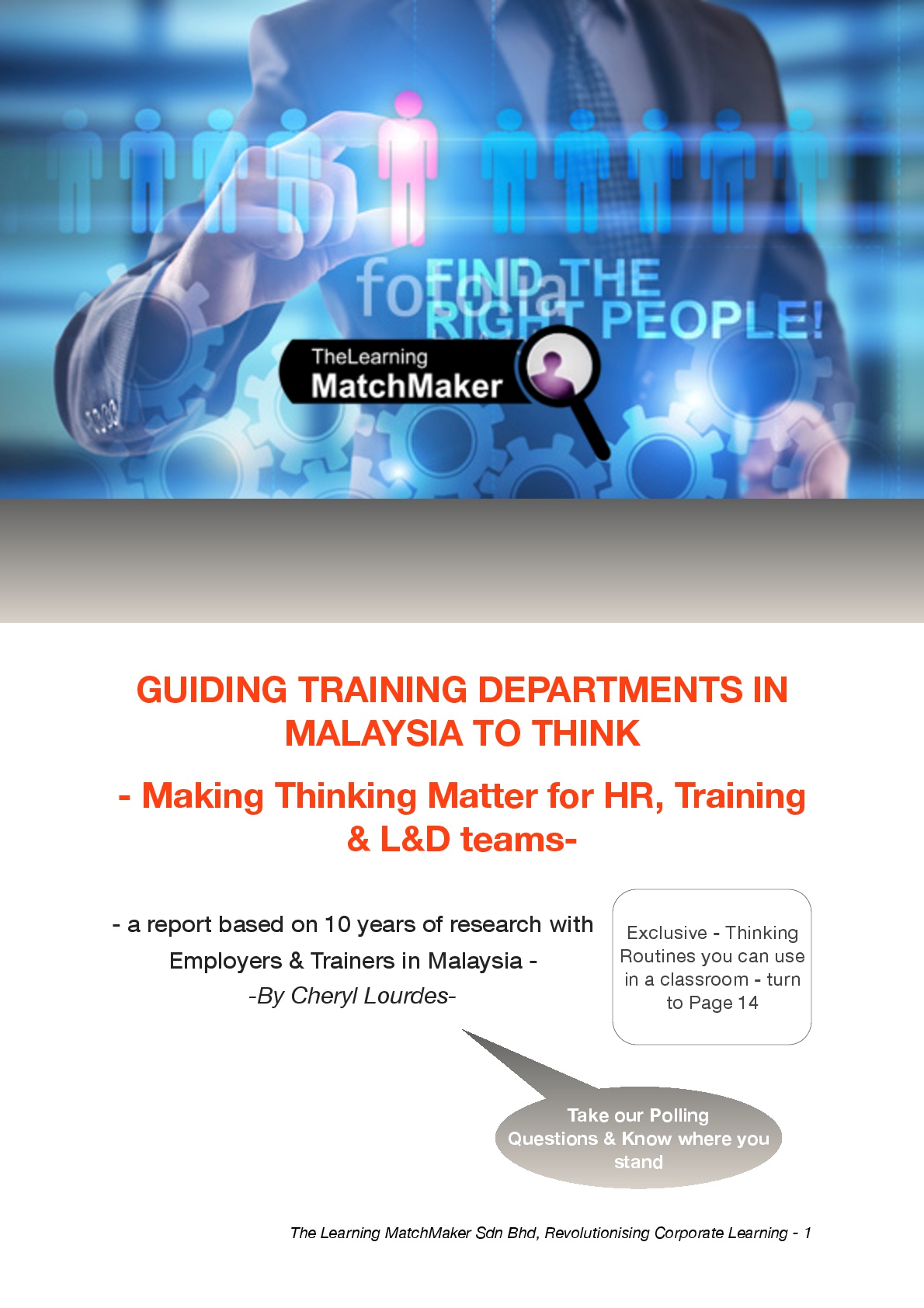 We found that the number 1 reason why learning maturity of employees are not catching on that fast in Malaysia is because the people in the HR, Training and L&D Teams are not thinking enough themselves.
We are sorry to be blunt here, but that is the fact; based on our intensive ground work in the industry for the last 10 years.
In our white paper report written by our CEO and also taking the role of Chief L&D Advisor, Ms. Cheryl explains:
How to understand the maturity of your employees first before dwelling into a 'Super High Fly TNA!'
How to build a successful and meaningful Screening Panel to select the best trainer for your training programs.
How to start building your L&D teams to develop patterns of thinking.
How to upgrade your L&D teams confidence so that ideas and suggestions can be bought.
How to develop your L&D teams Creative side of the brain.
Did You Hire a Conman as Your Corporate Trainer?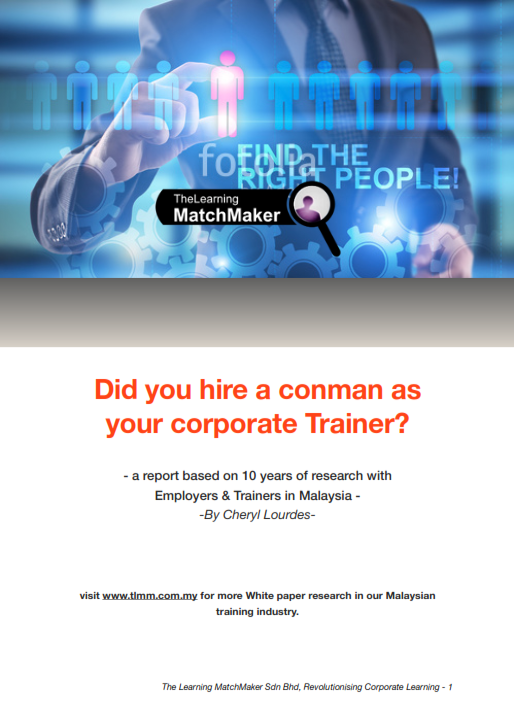 We have all come across someone that cheated.  Will this happen in our training industry? Answer is 'Hell Yeah!'.  During our early days of starting our company, we were conned by a trainer who had a very good track background of clients, written many books and speak on radio shows.
Our founders did not have enough money to do a website, hence we were vulnerable to this trainer who offered us to do our website, with a downpayment fees …well the rest was history.  Moving forward, TLMM keeps our spirit, toes, ears and eyes open for all sorts of people that profess to be 'awesome' but may fall into our books as 'con-mans'.  Here is what we wish to share with you on how you should be alert and not hire any trainer for the sake of his 'beautiful' outlook.
Read on and lets have coffee if you need to know more gossip of the latest con-artist trainers in Malaysia.
61 Secrets to Hiring High Potential Corporate Trainers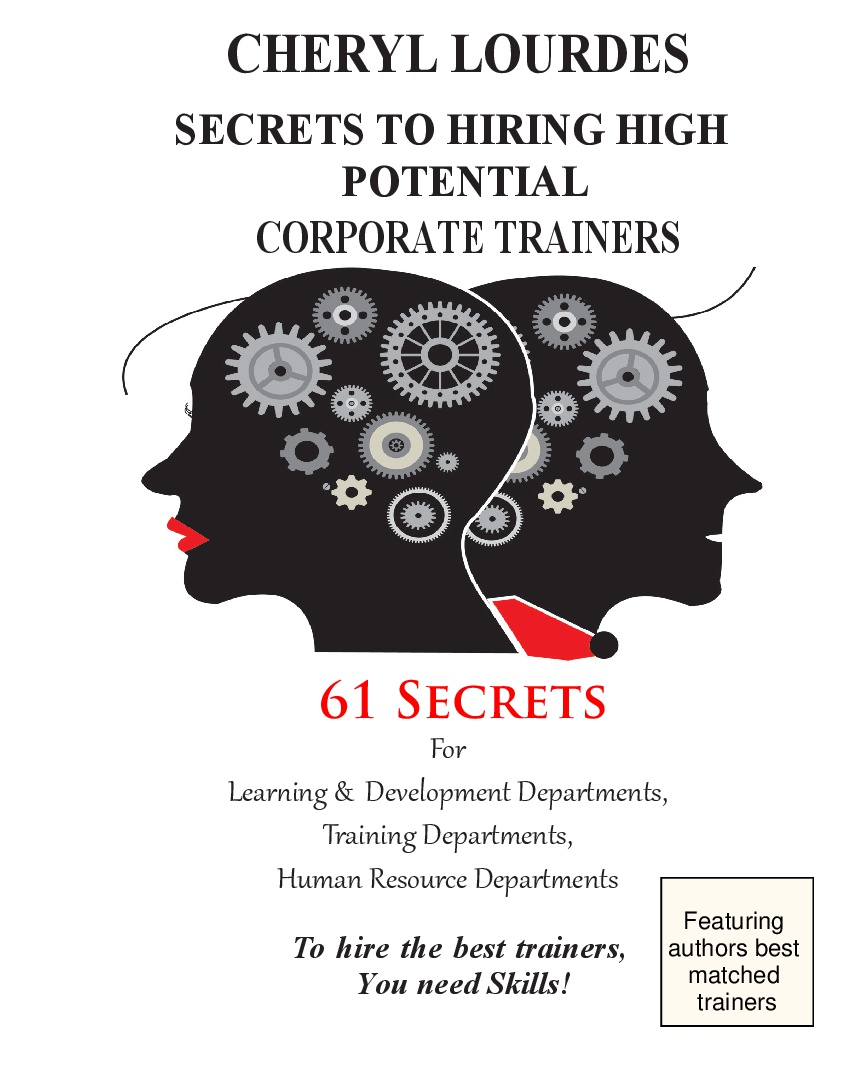 This book is written to provide further hiring strategies to managers in the Learning and Development Departments, Training Departments and Human Resource Departments who are always interviewing and evaluating trainers and training providers. Before reading on, ask yourself these following questions when hiring any trainer or training provider:
Will he (the word 'he' is referred to as the trainer or training provider) complete a needs analysis and customize content?
Will he include creating a partnership between HR, the line manager and the participants to ensure results?
Will he explore your needs thoroughly with your best interest in mind so as not to simply sell you something off the shelf?
Will he promise performance solutions or agree to recommend another trainer if your needs do not match his expertise?
Is he relationship-focused? In other words, interested less in short-term transaction dollars and more in long terms results and earned loyalty?
Is he able to train your internal trainers so that the performance solution can be cost effectively rolled out to the entire organization?
7 Deadly Sins of Phone Selling!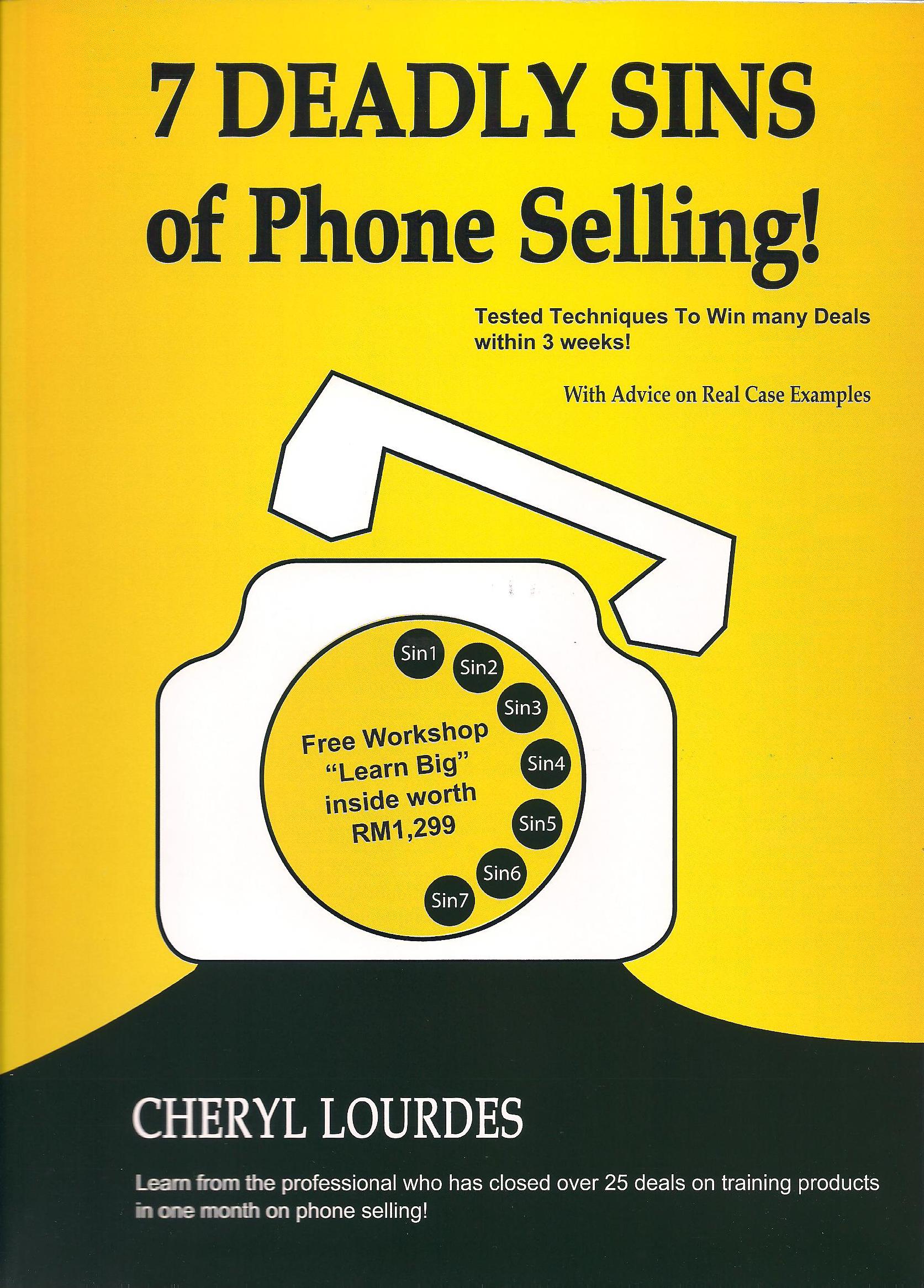 The 7 Deadly Sins of Phone Selling is written to help every sales person not to commit errors during your phone call selling. Don't ever be deceived with the idea that you can sell on the phone closing your eyes, even though you have done this a million times. You still need to write out your pitch (which I will be explaining to you soon) and you still need to have a clear mind on who would be your next client to call (even though you have spoken to this client a million times). I will take you through a journey where I myself personally struggled failures and finally understood how to become a master seller on the phone. You will come across case studies with real examples with my customers and things that you should do to win the right customer and to overcome the 7 Deadly Sins of Phone Selling.
Whether you are a first-time sales person anxious to close deals and to make the promotion, or an experienced sales person still searching for success, you will find it here, and that is my promise to you.
Get your sales team to Sell it Right the first time on phone and they will never go wrong. Phone selling is the most exciting process to secure a deal without meeting a client. 7 Deadly Sins of Phone Selling will help any sales person, tele-executive or trainer improve the way how the speak to clients and secure the deal on phone!
Training Department Starter Office Kit 1.0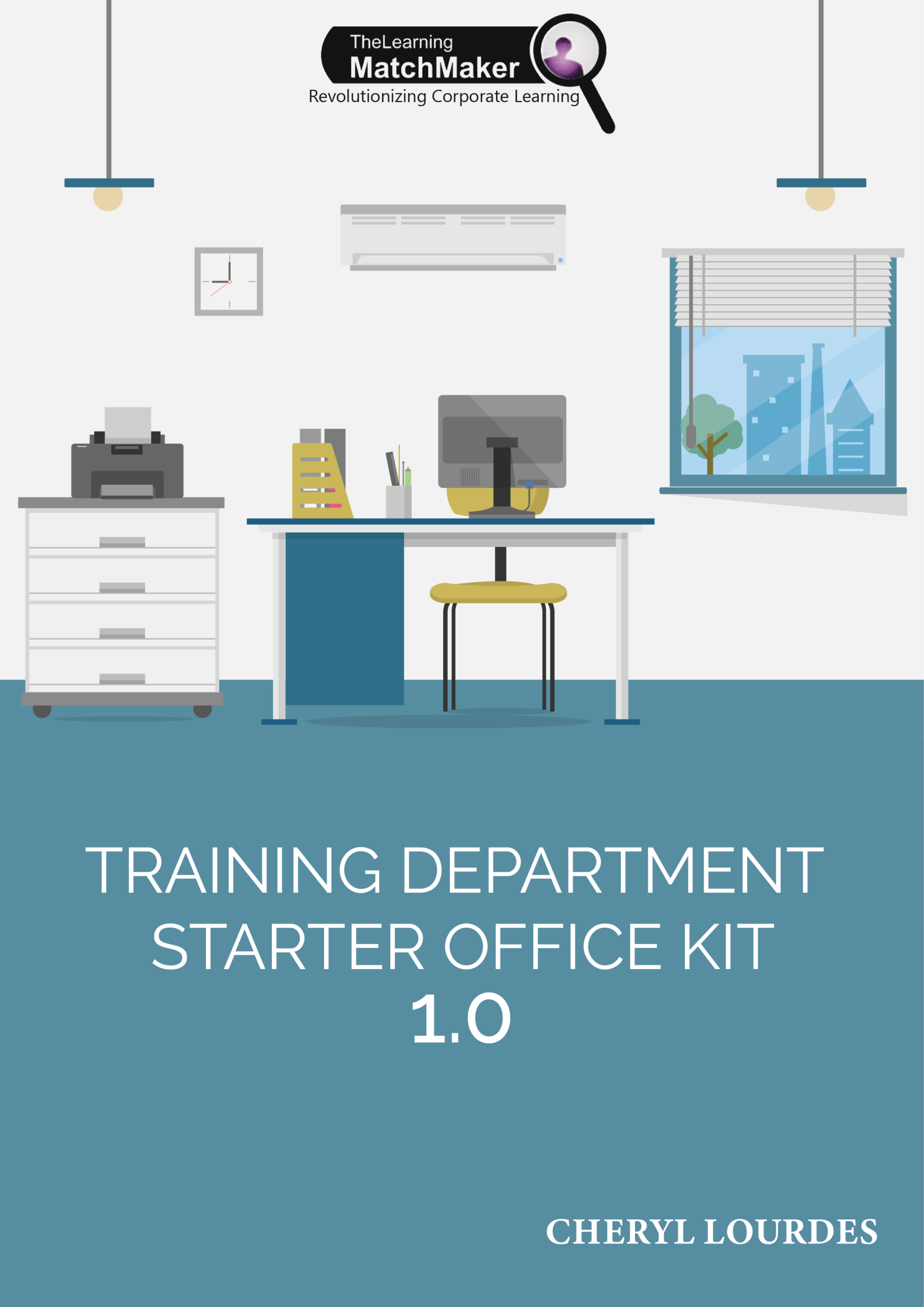 The development of people's performance in the workplace is critical to the! success of your organisation. The Training & Development (T&D) process has the potential to make a strong positive impact on making a learning matured organisation high performing constantly.! 
The hired personnels for this position need to not become an operational based thinker alone, but thinking strategically as well. The Learning Matchmaker's research team has provided you with a Starter Office Kit. The steps and stages explained will make you a champion in your department.
Read and revolutionize yours and your employees learning better.
Download more free books here
Book 1: Be Learner Centric
Book 2: The Invisible HR, Training and L&D Person
Book 3: Raise Your 'Trainer Evaluation Skills'
Book 4: Design Your Thinking to Achieve a Matured Learning Organization